Working to Build Stronger Communities

In partnership and with our nonprofit partners, HOM works with landlords to end homelessness for individuals and families through two housing program models:
Through these programs and participation from local landlords throughout the state, we provide permanent, affordable, and supportive housing solutions to thousands of Arizonans each month.
Benefits to Property Owners and Managers

Reduced Marketing Costs. Save your marketing budget by working with HOM to fill vacancies quickly. We always have participants searching for housing!

HOM Team Member Support. HOM team members are prompt, courteous and knowledgeable and dedicated to assist you.

Free Vacancy Listings. List and market your properties and available units for FREE on Padmission, our online housing search platform for participants and case managers.

Supportive Services Support: HOM's partners provide case management and wrap-around supportive services to tenants in the programs.

Monthly Payments. Receive ongoing monthly HOM housing assistance payments via direct deposit on the first day of the month.

Loss Reimbursement. HOM housing programs provide landlords reimbursement for tenant-caused damages and vacancy loss.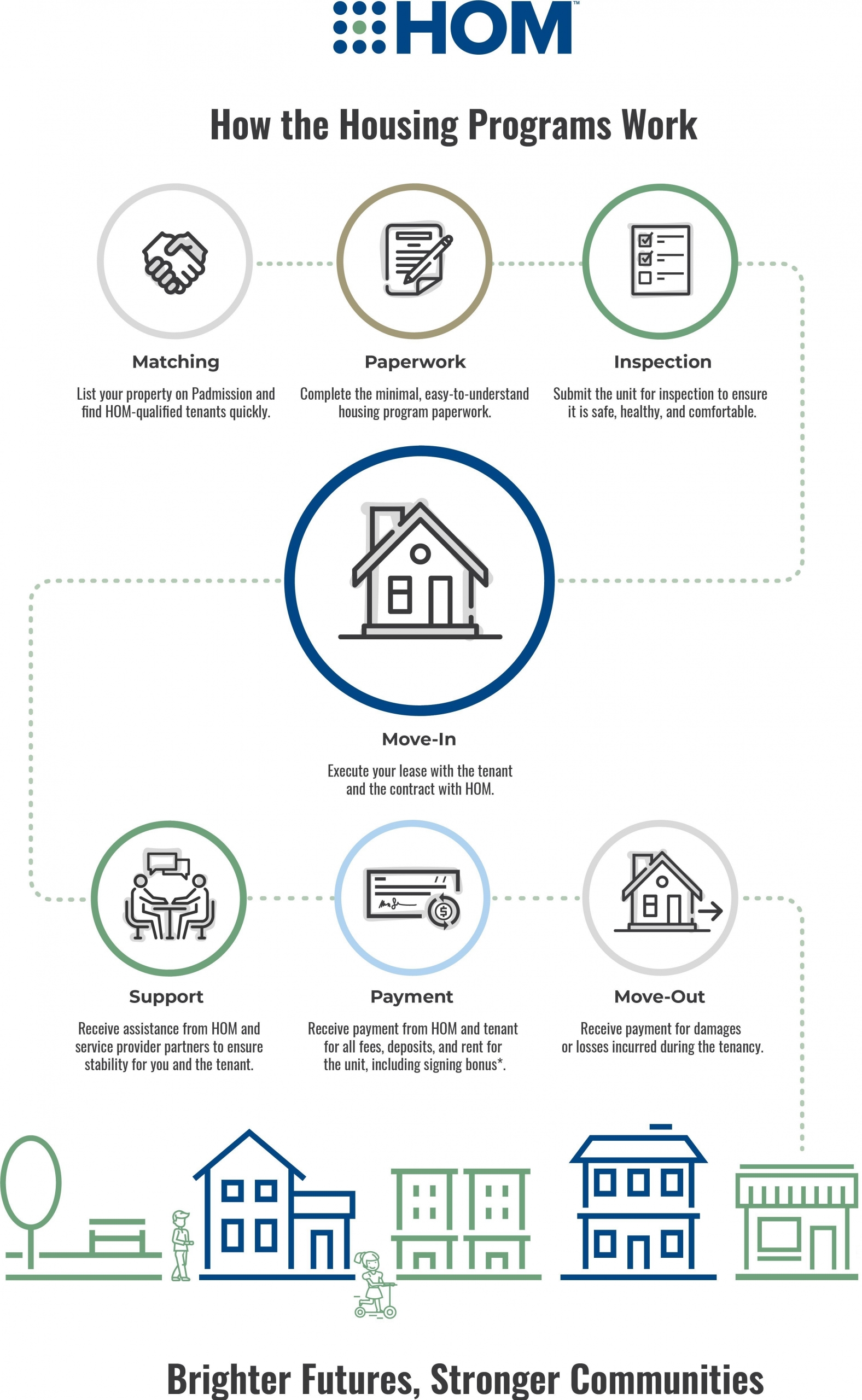 "We house dozens of HOM participants, and I wanted to say thank you for the amazing service we receive from the entire team with whom we work at HOM, Inc. Everyone is professional, courteous, efficient. That enables us to get people off the streets and into safe housing quickly."

–Eli G., Landlord
"I have to say I'm so impressed with HOM, and their high level of efficiency. They are the best housing agency I have ever worked with. It took me two months to execute HAP contracts with one agency and three months to receive payment. You folks at HOM, Inc., are amazing!"

–Frank R., Landlord
"Thank you so much! Words cannot even begin to explain my gratitude towards you folks at HOM, Inc. I was beginning to feel hopeless until I came to learn of your organization…I have now been able to focus on things in life that have not only made me a more stable individual, but I've been able to mend and rebuild relationships with my two young children whom I lost contact with due to homelessness. Again, thank you for all that you folks continue to do for not only myself but for other individuals as well."

–HOM Housing Program Participant