Empowering Employees to Thrive.
As Arizona's leader in Permanent Supportive Housing and Rapid Rehousing program administration, we have numerous opportunities to talk about why HOM, Inc. (HOM) is a great place to work.
There are many attractive reasons to pursue a career at HOM, including competitive pay, generous time off, great benefits, monthly chair massages, paid volunteer time, transparent leadership, a supportive work environment, and our diverse and inclusive workplace.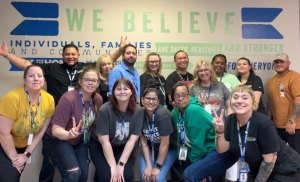 While these are valid and good reasons to work at HOM, there are three themes that capture the spirit of why HOM is the best place to pursue a career.
– The mission.
– The people and culture.
– Professional development opportunities.
For many people, working for a mission-driven organization is more than just a job. It's an opportunity to make a difference and help create positive social change. HOM provides an environment where employees can feel empowered to make a real impact on the community around them.
People and culture have always been at the core of our organization. The people that make up our team are remarkable individuals that come together to help create a positive atmosphere. Everyone works towards a common goal and feels like they belong. This is no accident. HOM has created a culture by design through efficient recruiting and hiring processes, our HOM Competency Model, annual employee experience surveys, peer-to-peer recognition system, quarterly awards, team building activities, the use of innovative technology tools, and open two-way communication through frequent employee-driven 1:1s which have become an integral part of the employee experience.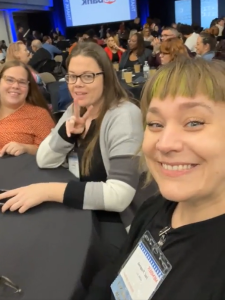 The commitment to our people doesn't stop there. HOM believes in investing in our employees to help them thrive professionally. We understand that a successful business is built on the strength of its employees and their drive to strengthen their skills and knowledge. For this reason, we provide our employees with access to a wide range of professional development opportunities such as workshops, seminars, online courses, and mentoring sessions and encourage employees to take part in activities outside of work such as conferences and networking events. These initiatives are designed to help our employees stay up to date on industry trends and gain the necessary skills for career advancement.
HOM offers financial support for further education so that our employees can acquire additional qualifications that will benefit both themselves and the company. By investing in our people, we're able to ensure they have the necessary tools to succeed in their roles and contribute positively towards achieving our common goal: building communities where the promise of home is a reality for everyone.
We strive to build a workplace that is not only productive, but also an enjoyable place to work. Our reviews demonstrate how our employees appreciate the opportunities for growth, recognition, and development we provide them with. We take pride in creating an environment where everyone feels valued and appreciated for their contributions. When our employees thrive, our community thrives.
If you believe in the mission of HOM, apply to join the team today. Your unique knowledge, experience, and skillset – amplified by our development opportunities – can positively impact thousands of vulnerable individuals and families experiencing homelessness and housing instability.
Check out our careers page for open positions.