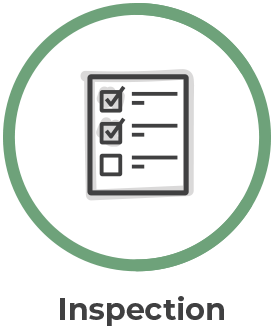 Inspection Ensures Unit Safety
HQS Inspection Requirements
The unit must PASS a Housing Quality Standards (HQS) inspection BEFORE we can execute a Contract on behalf of the HOM-assisted participant. You'll find helpful information about the inspection process on Forms Central, including the HUD Pamphlet, A Good Place to Live.
The pamphlet provides general information and performance criteria for the HQS Inspection process by room in the dwelling unit. We've also developed a Landlord HQS Tip Sheet to provide a list of common fail items for inspections. Inspections are also required annually to ensure that the dwelling unit continues to meet Housing Quality Standards.
Lead-Based Paint Hazards and Landlord Disclosure Requirements
Housing built before 1978 may contain lead-based paint, posing health hazards if not managed properly. Landlords are required to disclose the presence of any known lead-based paint and/or lead-based paint hazards in the dwelling.
HOM provides the EPA's Protect Your Family from Lead in Your Home pamphlet to all program participants. A Lead Warning Statement must be completed and signed by the landlord, tenant, and HOM prior to the leasing and execution of a HAP Contract for the dwelling unit. The EPA and HUD Real Estate Notification and Disclosure Rule Questions and Answers is available on Forms Central.