Our Beloved Noa
Our beloved Noa Marcela Bailey was born on February 26, 1979, in Chihuahua, Mexico, and passed away February 6, 2021, in Mesa, AZ.
The youngest of seven, Noa was the last of three girls, and had four older brothers, along with a close-knit extended family. Though the humble farming family had very little by way of wealth, they were rich beyond measure in love and support. Noa and her family enjoyed their life on the farm, living as simply as possible off the land. Learning self-sufficiency from a young age, Noa lost her mother at just seven years old. With no remaining elder siblings to help her father care for a young girl, Noa spent much of her youth in the care of various members of her extended family, counting many of her cousins as beloved sisters. Never feeling at home anywhere else, as a teen, Noa returned to live with her father while she finished high school.
Being the fiercely whip-smart and independent woman we came to admire, Noa set out into the world after graduation, and never looked back. She was blessed by the birth of her first son, Jonathan Diaz, in 1996, and shortly thereafter began dreaming of a better life for both of them. After several years of planning, Noa moved to be closer to her brother and sister-in-law, and their family, in Arizona, and to build a life of purpose for her and Jonathan. Just two short years after moving to Arizona, Noa was heartbroken to lose her brother, but had found herself a community of dear friends she counted as family, and chose to stay in Phoenix, where she knew she and Jonathan would have more opportunities.
In 2003, at the age of 24, Noa gave birth to her second son, Elias Lendo, completing their perfect family of three. As a young single mother, Noa worked hard and was rewarded with a job she loved, working as a property manager at Whispering Pines in Phoenix. This job allowed Noa to live on-site, where she worked with and became a part of the family of her dear coworker and friend, Erika Hernandez. The pair were inseparable, with their children growing up together, celebrating birthdays, holidays, and major life milestones as a family.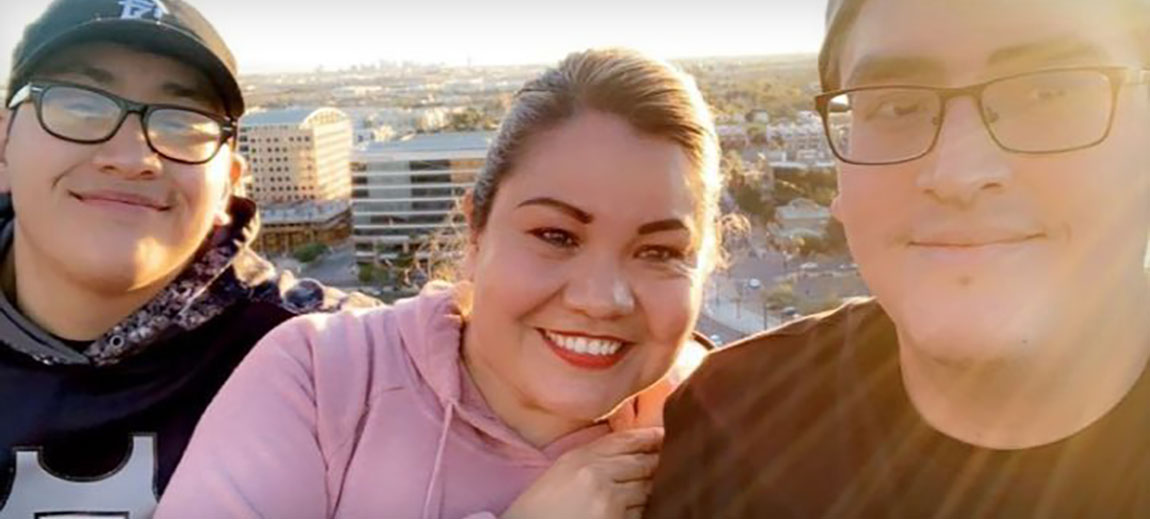 Noa eventually found love, married, and moved to Tempe, but when she found herself single again, she became more determined than ever to enjoy every minute of the life she'd been given. As a deeply spiritual person, Noa began a life-changing journey of self-healing, falling in love with adventure, activity, and movement. She greatly enjoyed the outdoors, hiking as often as possible, and was also an avid yogi, thoroughly enjoyed rigorous activities like biking and skydiving, and never missed an opportunity for meditation and reflection. She was also deeply devoted to her two rescue dogs, Guerro and Max, who accompanied her on daily walks. Noa was devastated to lose Guerro in December 2020, but is no doubt enjoying sunset walks with him in heaven.
Counted among her greatest blessings, Noa remained very close with her cousins and extended family. She had a passion for exploring, and took advantage of every opportunity to travel and visit them across the U.S., Mexico, and South America.
Few possess the determination and drive of our beloved Noa. After applying several times to join the HOM, Inc. family, she was enthusiastically welcomed to our team in August 2017. Noa loved the work she did at HOM, Inc., saying she always knew this was where she wanted and needed to be. Having bounced around among family during her youth, Noa said she'd felt homeless at times, but had finally found a home at HOM, Inc. unlike any other she'd ever known.
Ever the optimist, the HOM, Inc. halls were filled with Noa's laughter and generous spirit, where she was truly beloved. She had the ability to lift anyone in her presence with her smile and warmth. Though Noa's life had never been easy, those trying experiences afforded her compassion and empathy that can't be taught or bought, and which she selflessly gave to her work. Knowing first-hand how difficult life can be on your own, Noa vehemently advocated for her participants, always fighting to the best of her ability to help them stay safe and stably housed.
Noa never stopped striving for the best for herself, and as a result, improved the lives of those lucky to have known her. Despite the many obstacles she overcame, she remained fiercely positive, always with a wide, warm smile on her face. Noa could always be counted upon to be a beacon of hope and light. Our halls will forever miss her laughter. Our staff gatherings will never be the same. But our beloved Noa will remain in our hearts forever, and we proudly follow in her footsteps, setting the standard for impeccable work ethic and compassionate customer service.